Self-Help Reading
I often recommend these books to my patients as part of therapy.
Over 20 years ago, Nicholas Cummings found that 50% of the people who read a self-help book based on a method verified by psychological research could improve or completely solve their problems on their own. Of the other 50 %, 30 % could use the method with the help of a therapist and for 20%, the method did not work for them at all. (William O'Donohue and Nicholas Cummings (ed) Evidence-Based Adjunctive Treatments, Academic Press, 2008)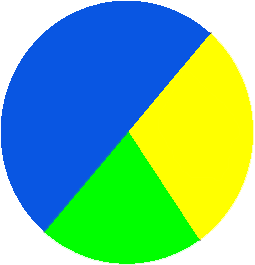 Blue Area: People who are able to learn from books alone, 50%.
Yellow Area: People who are able to learn from books and therapist together, 30%.
Green Area: People who don't learn from books, 20%.
If you are the kind of person who enjoys learning from books, you may find reading one of these books and following the program it describes very helpful. Or you may decide to make an appointment for professional assistance in implementing a particular program.
Anxiety and Phobias:
The Anxiety & Phobia Workbook by Edmond Bourne
Depression:
Depressed and Anxious: The Dialectical Behavior Therapy Workbook for Overcoming Depression & Anxiety by Thomas Marra
Understanding and Managing Bipolar Illness:
Bipolar II: Enhance Your Highs, Boost Your Creativity, and Escape the Cycles of Recurrent Depression--The Essential Guide to Recognize and Treat the Mood Swings of This Increasingly Common Disorder by Ronald R. Fieve (Hardcover - Oct 3, 2006)
The Bipolar Disorder Survival Guide: What You and Your Family Need to Know by David J. Miklowitz (Paperback - Jan 24, 2002)
Affective Disregulation:
Don't Let Your Emotions Run Your Life: How Dialectical Behavior Therapy Can Put You in Control (New Harbinger Self-Help Workbook) by Scott E. Spradlin
Stop Walking on Eggshells: Taking Your Life Back When Someone You Care about Has Borderline Personality Disorder by Paul T. Mason
I Hate You, Don't Leave Me: Understanding the Borderline Personality by Jerold J. Kreisman
Two Different Approaches to Negative Thinking:
The Luck Factor: The Four Essential Principles by Richard Wiseman
The Positive Power of Negative Thinking: Using Defensive Pessimism to Harness Anxiety and Perform at Your Peak by Julie K. Norem
Dr. John Gottman on Marriage and Childrearing:
I am a Certified Gottman Educator (C.G.E.), in Bringing Baby Home™, trained by The Relationship Research Institute, Seattle, WA. 2006. As a couples' counselor, I use Dr. John Gottman's approach to helping couples make their marriages work. These books explain this approach:
And Baby Makes Three: The Six-Step Plan for Preserving Marital Intimacy and Rekindling Romance After Baby Arrives
by John PhD Gottman and Julie Schwartz Gottman (2007)
The Seven Principles for Making Marriage Work by John M. Gottman and Nan Silver (2004)
Ten Lessons to Transform Your Marriage: America's Love Lab Experts Share Their Strategies for Strengthening Your Relationship by John Gottman Phd, Julie Schwartz Gottman, and Joan Declaire (2007)
The Relationship Cure: A Five-Step Guide for Building Better Connections with Family, Friends, and Lovers by John PhD Gottman and John Gottman (2001)
Raising An Emotionally Intelligent Child by John Gottman, Joan Declaire, and Daniel Goleman (1998)
The HEART OF PARENTING: Raising an Emotionally Intelligent Child by John Gottman and Joan Declaire (1997)
Insomnia:
The Insomnia Answer: A Personalized Program for Identifying and Overcoming the Three Types of Insomnia: Getting to Sleep, Staying Asleep and Broken Sleep by Paul Glovinsky PhD and Arthur Spielman, PhD.(2006)
Say Goodnight to Insomnia by Gregg D. Jacobs, Ph.D. (1998)
Calm Energy: How People Regulate Mood with Food and Exercise by Robert E. Thayer, PhD (2001)
National Sleep Foundation website:
www.sleepfoundation.org